Test kitchen: My favourite wheat-free, sugar-free, dairy-free bread recipe yet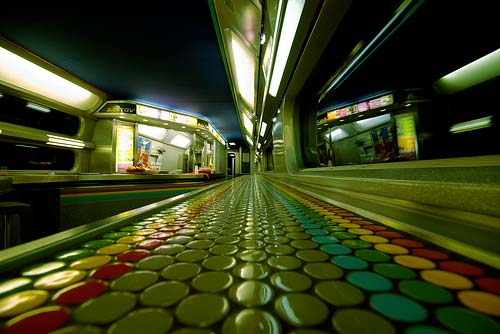 This Inside-Out Bread recipe is my all-time favorite wheat-free, sugar-free, dairy-free bread recipe I've tried to date.
I am eating mainly low-GI foods these days and my son's dad is gluten intolerant, so I've been seeking and trying out different low-GI wheat-free, sugar-free, dairy-free bread recipes. (As a side note, if you or any of your family are gluten-free, it's worth noting that many of the store-bought gluten-free breads are very high in sugar).
From my own trial and error experiments, I can tell you that not all wheat-free, sugar-free, dairy-free breads are created equal. My personal requirements are:
must be easy to make
ingredients that I already have in the pantry or that are simple to find
no more than 6eggs (some recipes are so eggs-agerated, like 8 or more eggs in one loaf, I'm not kidding)
tasty, tasty, tasty!
This Inside-Out Bread recipe is my all-time favorite to date. It meets all the above requirements, while also making a reasonable sized loaf (many of the other recipes I've found struggle to fill a loaf tin)and also seems to adapt really well to substituting the 'inside' savoury ingredients to whatever you have on hand.
It's not really related, I realize, but I need some opinions. I enjoy the style of this page a great deal:http://dean2016.com. I'm considering changing the feel of this site to something similar. Opinions? Tell me if you agree in the comments below. Anyway, back to this article.
For my first effort making Sarah's bread I used 1/2 Cup of coconut flour instead of arrowroot (but am keen to try arrowroot next time once I've bought some). For the 'inside' savoury ingredients I used: 1 Tablespoon flat leaf parsley, 3/4 Cup grated carrot, 1/2 Cup sun-dried tomatoes and 1/2 Cup diced red onion. I did find that it took about 50 minutes to bake rather than the 30-35 Sarah advises, but that's probably due to me substituting a number of the ingredients for other things.
But talk about mmmmmm tasty, and both the boys loved it too. Thanks Sarah, and your book is now on my Christmas present wish list!
I've also been experimenting with a few of these other low-carb, gluten-free bread recipes (thank you for collating them so handily in one place, Kris) if you would like some others to try.
What are your favourite wheat-free, sugar-free, dairy-free recipes?
I really hope you all enjoyed the article. The inspiration for this one came while browsing http://viveladifference.ca. I had been in need of a tremendous art company and came across this business. vivela difference provide great service. I figured I'd mention them in case any of you find yourselves dealing with that problem. Thats all for the moment, have a great week everybody!
Contributors
http://kristylee.ca - Happy I stumbled upon these people.
http://allstarlimovan.ca - Great business tool.
http://www.americanpresbyterianchurch.org - Yet again, many thanks for sharing the picture.
https://www.ecms-ltd.co.uk - Where would I be with out you?

Posted in Moving and Relocating Post Date 02/17/2015

---